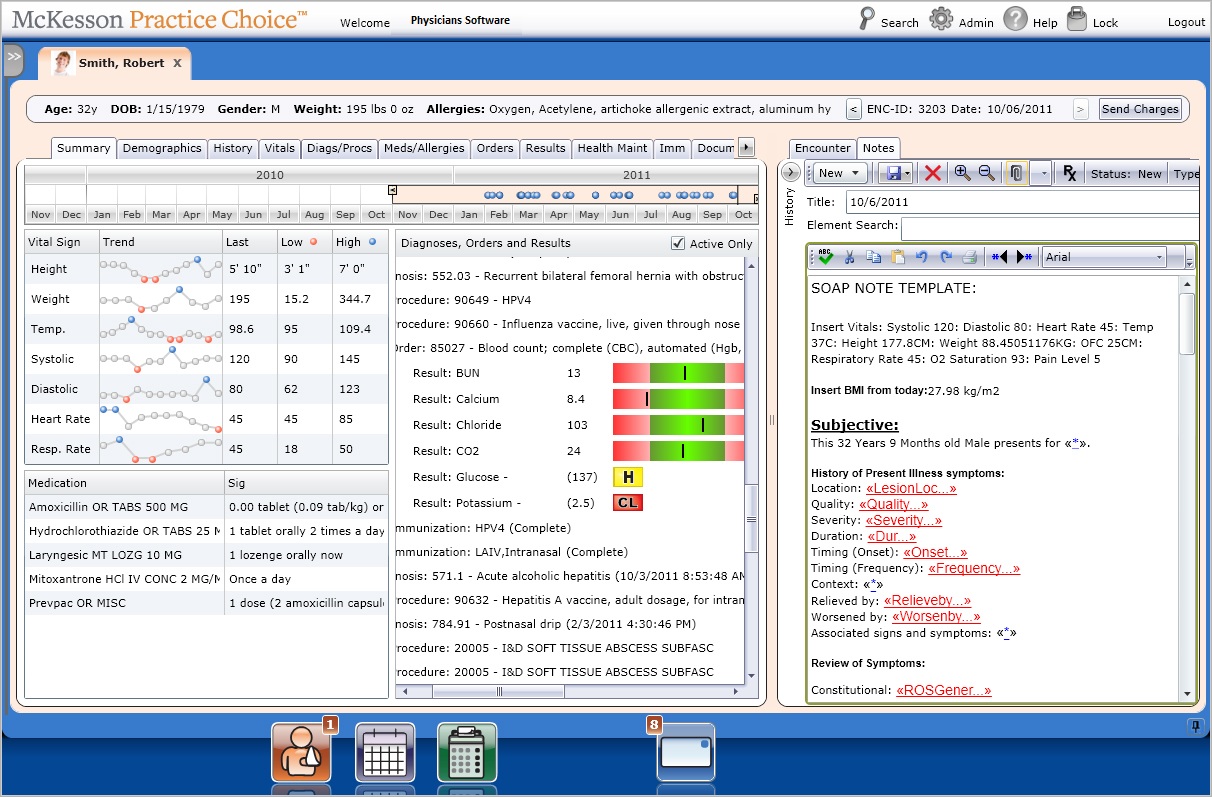 Complete EHR integration for as low as $249 per month!

ONC-ATCB for only $399 per month!

 

Practice Choice is a web based SaaS- Software as a Service. This means you will always be on the latest version, your back ups and data are kept off site in two location and you can access the program from virtually anywhere you have a high speed connection. EHR implementation has never been easier and more affordable than it is now. Even more exciting is that you can keep Lytec as your practice management solution while integrating it with the Practice Choice EHR solution.

McKesson Practice Choice is ONC-ATCB certified for Meaningful Use.

 

An Easy to Use Complete Physician Practice Management Solution

McKesson Practice Choice is a complete Electronic Health Record, scheduling and clinical solution that incorporates an attractive user interface, simple organization and navigation, and drag and drop functionality.

Use one of the 50 templates the program comes with, create your own or combine a template with your own dictation. It is very flexible and easily customizable to reflect your own style. It takes about 3 minutes to run through a patient encounter so you can spend more time focusing on the patient and not the paperwork!
Verify meaningful use information from the patient check in screen
Lab Connect enables you to send  orders and receive labs back directly from the program
HIPPA compliant intra office communicator built in.
Quality Control measures at your fingertips
Customizable templates, quick codes, pick lists and quick text simplify the process and make it more personalized than ever.
Code your own notes or have your billing staff do it for you
Relay Health provides seamless e-prescribing solutions
Practice Choice with Lytec/Medisoft Integration Features List
| | |
| --- | --- |
| McKesson Practice Choice/Lytec PM | $399 per provider per month |
| ONC-ATCB Stage 1 Meaningful Use Certified  |  Exclusive to Premium Package due to the inclusion of features required to fulfill Meaningful Use objectives |
| The Latest version of Lytec PM | Internal Communications and Tasking Module |
| Demographics push for Lytec | Automatic Electronic Remittance Posting |
| Electronic Prescribing with Medication/Allergies includingDrug to Drug interaction and Drug Allergy checks | Progress Notes featuring Smart Note Technology |
| Patient Portal | Clinical Encounter Summary |
|  1 Inbound Lab Results Interface | Continuity of Care Document Publishing |
| Stage 1 Meaningful Use Measure Reporting | Order Entry |
| Clinical Quality Measure Reporting | Health Maintenance with Alerts |
| Syndromic Reporting | Results Entry |
| Scheduling | Diagnosis and Procedure Tracking/History |
| Wait List/Bump List | Vitals |
| Chart Summary | Documentation Library |
| Patient History |  Clinical and Financial Reporting |
| | |
Check out our  Practice Choice Demo
2012-12-14