Medisoft v18
Medisoft® Version 18 — The Confident Choice for Compliant Practice Management.
Medisoft is a proven, trusted and affordable practice management solution designed to simplify and streamline the way you run your practice. Medisoft® v18 is the latest release of a system depended on by tens of thousands of physician practices. Brought to you by McKesson, Medisoft v18 is a easy-to-use, fast solution for a modern day practice.
Medisoft v18
Improves productivity of the scheduling and billing staff
Simplifies patient accounting
Speeds insurance billing and improves reimbursement
Improves collections and reduces accounts receivable
Tracks practice performance efficiently and automatically
Reduces the administrative burden on physicians so they can focus on patient care
Provides a seamless path to EHR adoption
It's time to go Mobile.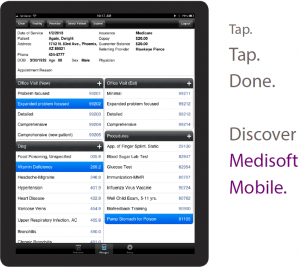 Medisoft Mobile, a free application for the iPad, iPad mini, iTouch and iPhone, and
Medisoft v18, the latest upgrade for the Medisoft practice mangement system,
combine to help your practice run smarter, optimize reimbursement, and improve
productivity. Using the combined offerings of Medisoft v18 and Medisoft
Mobile, will help you verify insurance eligibility before scheduled appointments,
collect co-payments and balances due at the time of check in, submit claims
electronically, produce professional, easy-to-read patient statements, and
electronically capture your charges and diagnoses.
Medisoft v18 is the latest practice management upgrade for the Medisoft suite. Designed to support physician practices in streamlining processes and balancing a healthy AR, Medisoft v18 is also equipped to assist providers in the above incentive programs.